TikTok is a relatively new platform for businesses, and many businesses are struggling with understanding the best way to approach the platform and curate created content. In this series we look at five different industries and analyse the content strategy of several businesses that are doing well on TikTok.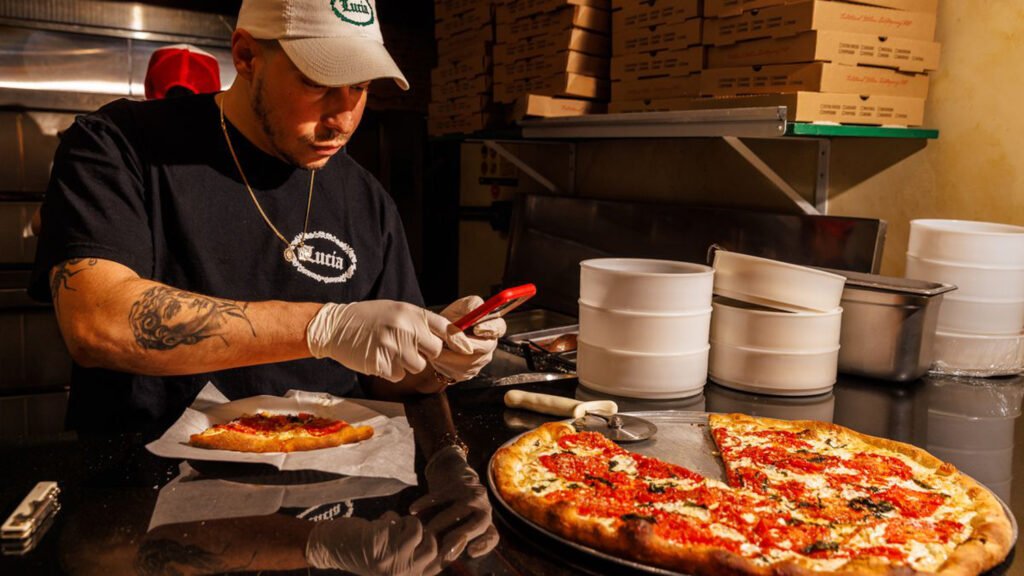 TikTok's short-form video style content has created the perfect environment for hospitality businesses to translate their picturesque Instagram food into videos. And that's what many Melbourne-based restaurants and hospitality groups have started doing. However the professional, finished look of Instagram doesn't translate as well into TikTok, where the unpolished aesthetic of iPhone camera recordings is preferred. Many hospitality businesses have attempted to translate their Instagram material into TikTok with minimal success - so we've looked at two different ways for these brands to approach created content. 
What's important for hospitality businesses to remember is that TikTok pushes content that people will like - if your business has a unique edge or concept, then it should be focused on in your TikToks. It's important to not only pay attention to trends but also to be responsive; for example House of the Dragon star Emma D'Arcy's interview clip where they said "a negroni…sbagliato…with prosecco in it" went insanely viral. The trend led to a sub-trend where people actually went to bars and tried to order the drink. However not many restaurants took advantage of this opportunity to showcase a bartender making the drink or introducing it as a special. TikTok creates opportunities for businesses to generate more sales, and being in tune with trends will make you aware of these opportunities.
Fortress Melbourne is a video games venue that promotes its tavern-themed restaurant and esports bar through TikTok. Like many other restaurants, they also made the mistake of using highly edited videography in their TikToks, largely ignoring trends and using TikTok almost like Instagram. It was impersonal, overall disinteresting and it was hard to connect with the brand. However once they onboarded a social media manager the created content immediately changed and their views and engagement increased. Their content now consists of RPG-style content, using trends to be relatable to video gamers (including Valorant, Minecraft and racing references) and highlighting salient features of the venue like their pixel fireplace, troll statue and unique cocktails. The content highlights their unique gaming theme and is much more appealing. 
Yochi is a soft serve shop that has taken advantage of TikTok to appeal to its younger target audience. They make use of trending sounds and video concepts and apply it to their product to promote the new flavours and toppings. Similar to Duolingo, they are capitalising on Mascot-tok with their koala mascot. Mascots help to bring the brand to life in a fun and creative way, and the mascots resonate more with TikTok audiences than just regular content. A mascot strategy is usually paired with 'unhinged' content, playing into the informal and authentic vibes that is expected on TikTok. Mascots create an opportunity for brands, whose products are not inherently interesting themselves, to show personality in a fun and engaging way.
User Generated Content (UGC) is largely relied upon in the hospitality space. That's not entirely a bad thing - audiences rely on other customers' experiences before making purchase decisions. @melbfoodieee is one of many foodie TikTokers that post content of new and interesting food places in Melbourne. Her content highlights the best part of the restaurant through the eyes of a customer, and it allows her audience to vicariously experience going to a restaurant from start to finish. UGC creates an opportunity for businesses to promote the customer experience, from a customer.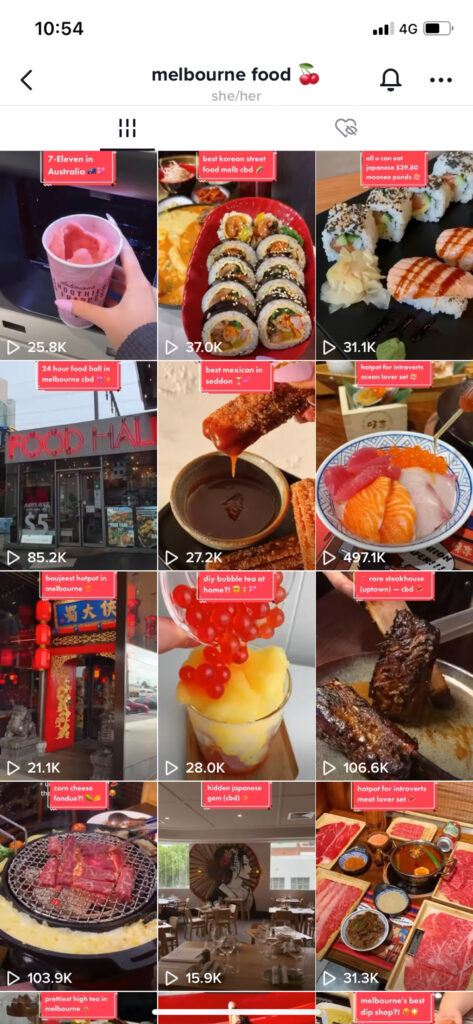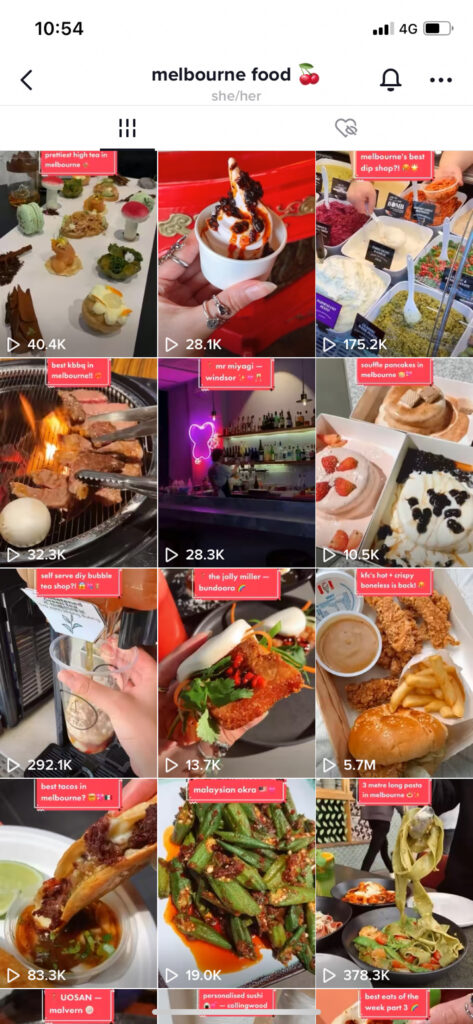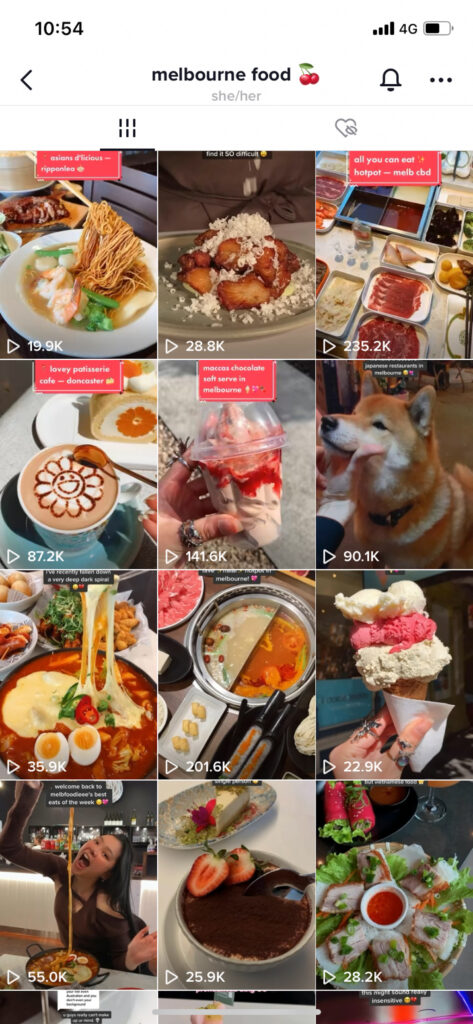 But businesses should also put out content for potential customers to consume, not just rely on external foodies to post content on their own account. When your business is posted by a foodie alongside other restaurants, it's perfectly positioned to be compared. And when those foodies link your TikTok account in the post and the account has little to no posts, it undermines the image and legitimacy of a brand. Relying on external accounts to create content of your business means that how your business is portrayed is out of your hands. UGC can and should be used, but it should be combined with a TikTok content strategy.

TikTok is increasingly being referred to over Instagram to search for new must-try restaurants. In August they were testing a new "Nearby" feature that would give local businesses the opportunity to promote content to localised audiences. With Google Maps feeling threatened by Instagram and TikTok, hospitality businesses need to start recognising the potential that TikTok can bring them.