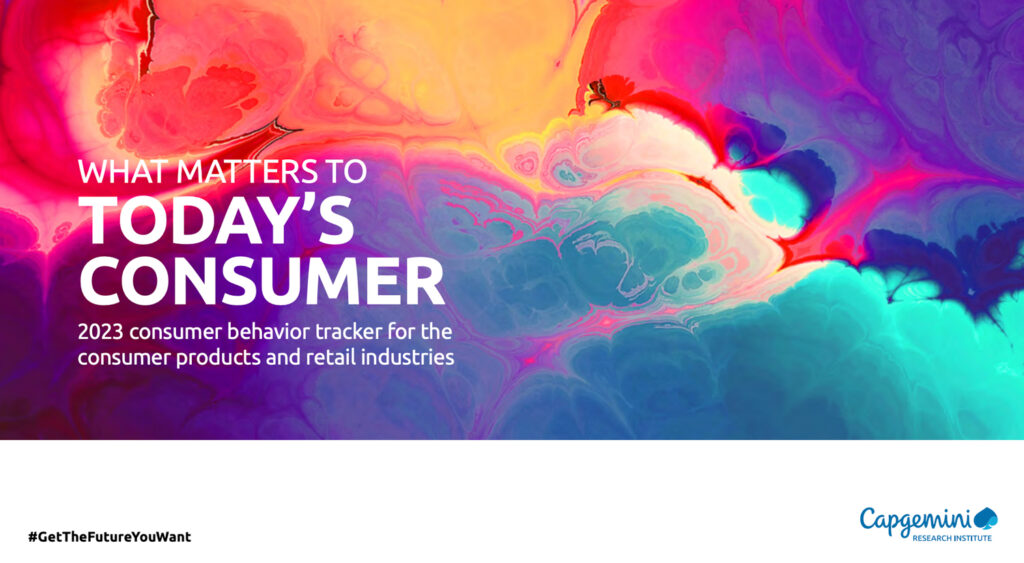 Continuing on from their first investigation into consumer behaviour in 2021, What Matters To Today's Consumer 2023 by Capgemini Research Institute unravels a story familiar to all of us - living through the repercussions of the COVID-19 pandemic, the geopolitical crisis and subsequent tensions, and the looming inflation affecting the cost of energy, food and housing. The survey of more than 11000 people worldwide revealed that the trends that emerged in 2021 continued to persist into 2022, alongside new developments. In light of inflated living costs, consumer purchasing patterns changed - resulting in a decline in online and in-store shopping. Today's consumers are extremely concerned about stockouts of essential products, leading to growing demand for fast delivery and fulfilment services rather than in-store experiences. This year's report investigates the rise of social media influencers and the effect they have on Gen Z and Millennials.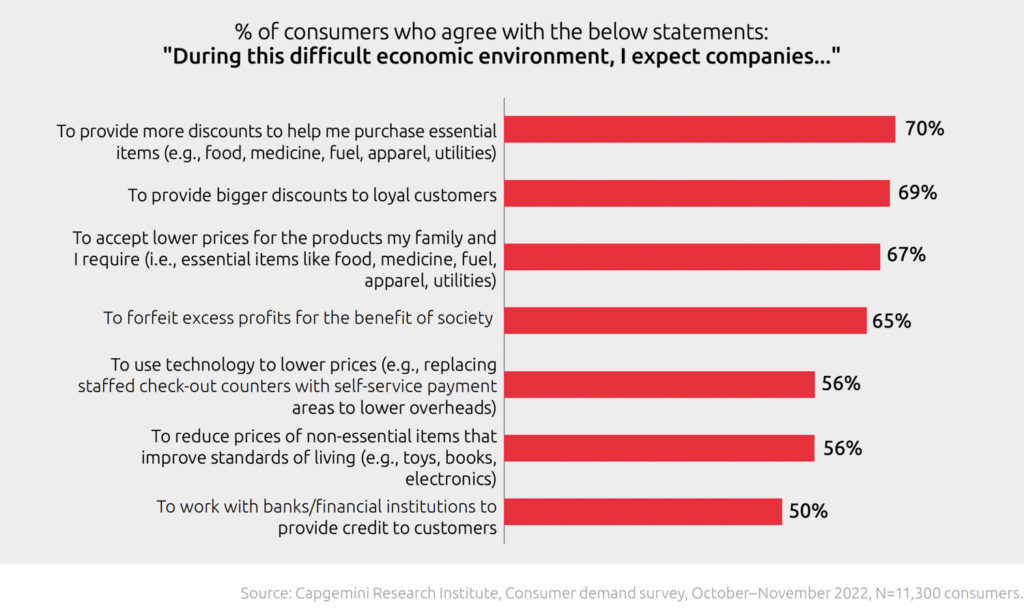 Consumers expect companies to help them through the cost-of-living crisis with initiatives like loyalty programs, as they spend more time searching for deals online, shopping in discount stores and purchasing smaller quantities.
The exponential increase in the cost of living has drastically altered the purchasing patterns of consumers worldwide. Many believe the government is not doing enough - they are worried about energy use in their home and their ability to afford basic necessities and food. 73% of consumers are making fewer impulse purchases. The first items to be cut are dining out, non-essentials like electronics, plants and toys and luxury items. The cost of living crisis has led to the development of more sophisticated purchase behaviour, with consumers spending more time to search for deals online, shopping in discount stores or low-cost brands and buying in smaller quantities at a time.
During this time of stress, consumers expect companies to help purchase necessities and reward loyalty through discounts for repeat business. In return consumers will prioritise purchasing products and services from that company over others. This is backed up historically - during the economic crisis of 2008 loyalty programs boomed and grew 19%. Throughout the pandemic Taco Bell launched a subscription service, Taco Lovers Pass, entitling members to a taco every day of the month for the cost of $10. The pass resulted in members visiting stores three times as often as non-members and 16% signing up for another month.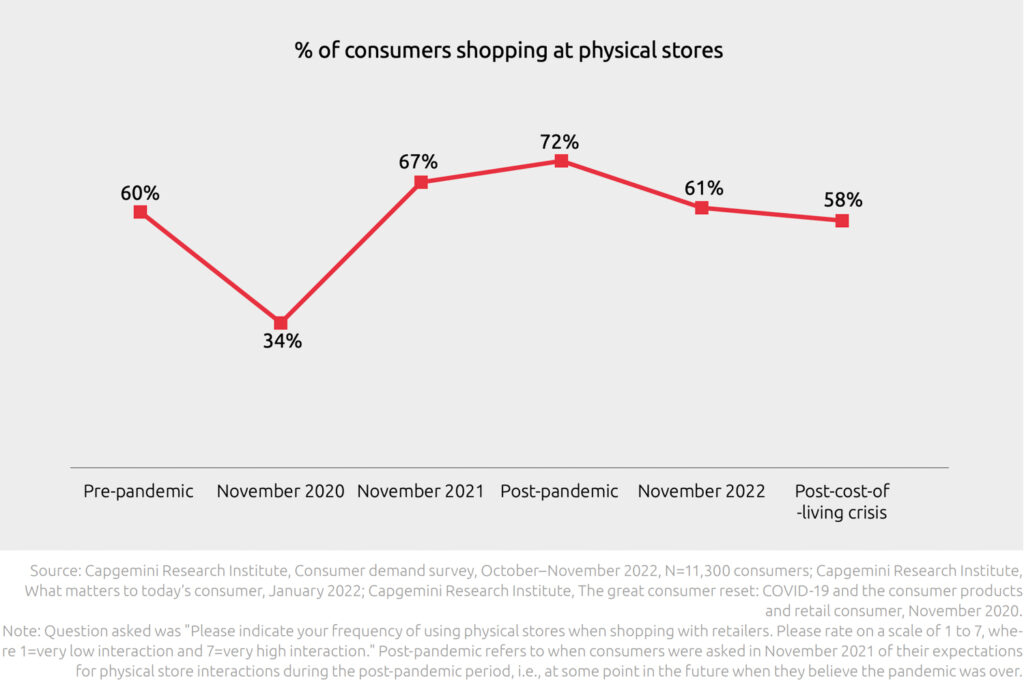 Both in-store and online shopping has declined, with consumers spreading their purchases across both physical and online channels but spending less overall.
As prices tightened and energy, rent and food prices soared, consumers cut back on the number of shopping trips. Following the pandemic it was expected that consumers would return to shopping in-store, however only 61% say they are shopping at physical stores compared with 67% in 2021. Consumer interactions with retailers in the digital space has also decreased, but stabilised in the long term. Whilst 38% of consumers maintained that they had significant interactions with retailers' online channels in 2021, this number lowered to 33% in 2022. However the longer term outlook increases back to 38%, suggesting that consumers have reached a stabilisation of online interactions from pre-pandemic times. Consumers nowadays are spreading their purchases across both physical and online channels, and spending less overall compared to previous years.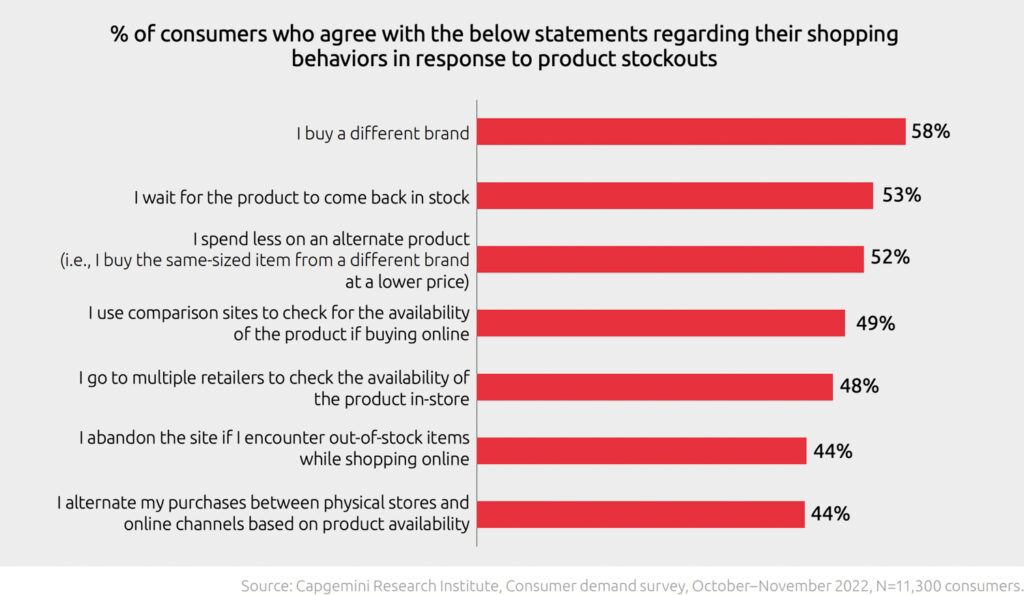 Concern for stockouts of essential products continues, affecting brand loyalty as 58% of consumers will turn to competitor brands if their favoured brands are unavailable.
The unreliability of supply chains means that consumers are still concerned about the availability of essential products such as food, prescriptions and over-the-counter medication. More than one third of consumers across all age groups were concerned about the availability of essential products such as groceries and food. This is bad for businesses that wish to build long term loyalty with these consumers - if favoured brands are out-of-stock, 58% of consumers will turn to competitors' brands to buy a similar product. Whilst customers will reward low prices and loyalty scheme benefits, they will shift stores/brands if essential products are unavailable. For non-essentials, 60% of consumers will simply abandon efforts to purchase their desired products if it is not available during the first, second and third instances of a stockout.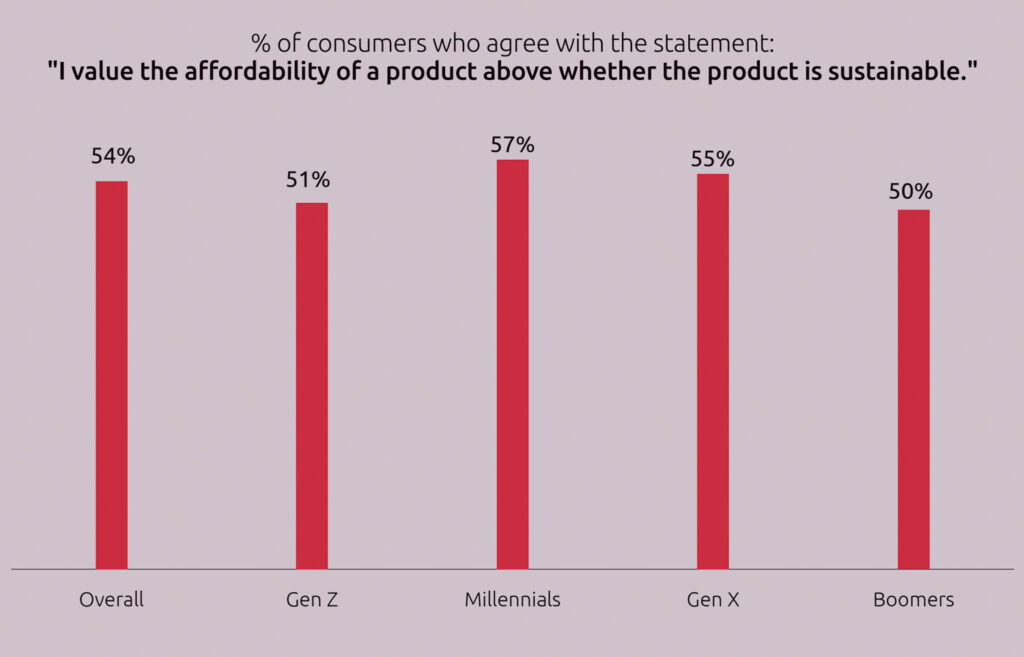 Interestingly, 54% of consumers globally value affordability over the sustainability of a product when making purchasing decisions - the rising cost of living implies that 46% are either neutral to the issue or value sustainability over affordability.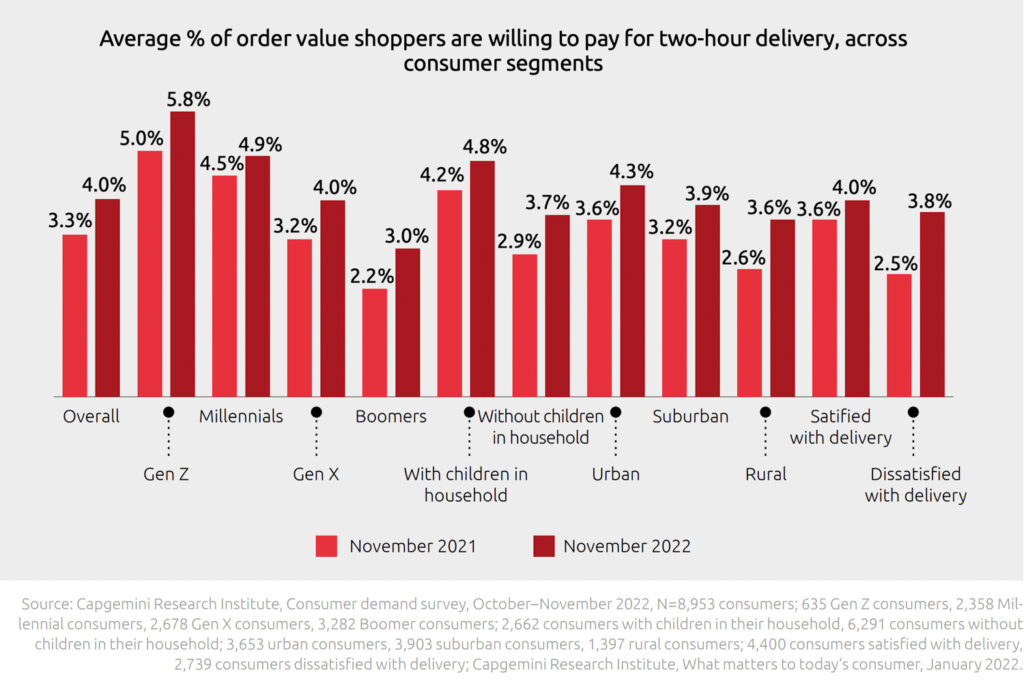 Convenience wins as consumers continue to place value on prioritised delivery and fulfilment - even if it means paying more.
One common sentiment across all age groups, regardless of whether they had children or lived in an urban, suburban or rural area, was that they prioritised delivery and fulfilment. This was felt across all areas of retail, from grocery shoppers to health and beauty shoppers. Driven by the increased rate of stockouts, organisations need to ensure prompt and on-time services for delivery and fulfilment. 36% of consumers globally say that ordering grocery online with two-hour delivery is important to them, and they were willing to pay 4% of the total bill towards 2-hour delivery, up from 3.3% in 2021. This increase indicates a general acknowledgement that inflationary pressures are having on brands, and reflects their desire for convenient service even if they have to absorb higher prices to obtain it, during an economic crisis.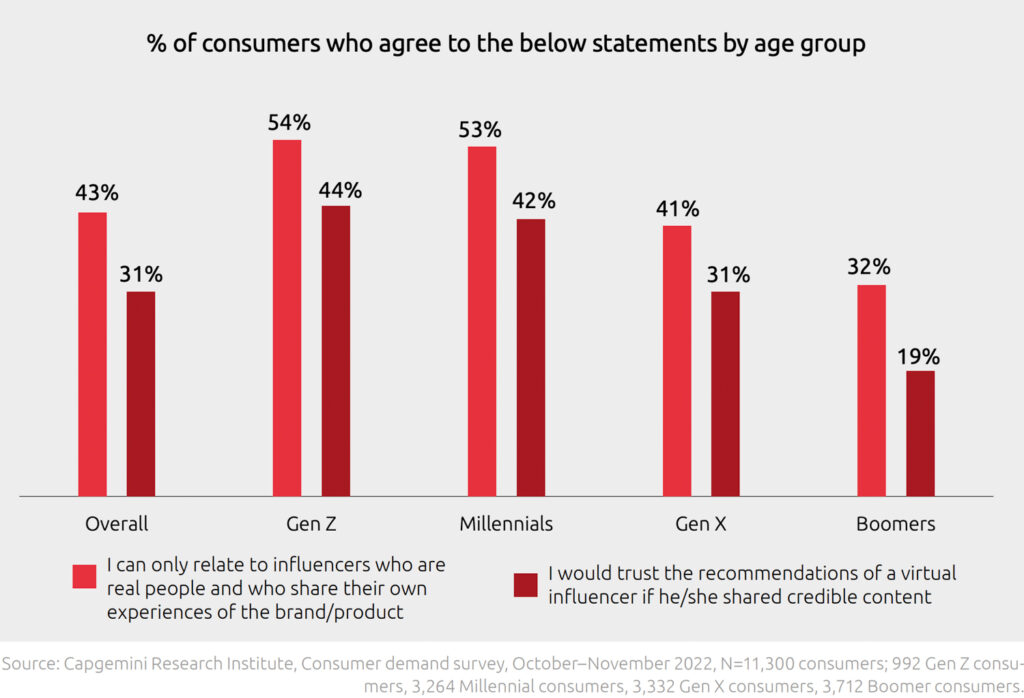 Social media influencers continue to drive awareness and sales for brands, however authenticity is key as 47% of consumers are more likely to trust an influencer who shares both the positive and negative side of a brand/product.
The shutdown of cities across the world led to the reliance and subsequent boom of social commerce, with an expected growth rate of 30.8% through 2022-30. Driven primarily by Gen Z and Millennial social media users, it has given rise to a less traditional form of marketing - social media influencers. Nearly a quarter (22%) of all consumers learned of a product or brand through an influencer, with 16% then going on to purchase said product or brand. The key thing to learn from this is that if brands wish to connect with Gen Z and Millennials, they need to create relationships with the people influencing them. The brand discovery to product purchase journey needs to be seamless; linking content to commerce to improve the overall consumer experience. However working with influencers is a double-edged sword; consumers perceive certain influencers to be more credible than others. Working with the wrong influencer can negatively reflect a product or brand, and influencers who are paid by brands are immediately less credible. 47% of consumers are more likely to trust an influencer who shares both the positive and negative side of a brand/product.  
Reflecting on 2022's results, it leaves one question to be answered - how can brands and retailers navigate the ongoing shifts in consumer behaviour? The report puts forward three key actions - adapt to compete, unlock channel growth and lead with purpose.
Adapt to compete
Brands need to adapt technologies and innovative solutions across many dimensions including product, energy, labour and shipping. These changes should support improved decision-making and operational efficiencies, with the value saved then being passed onto consumers. This can be achieved through leveraging technology such as data, analytics and AI to identify underperforming areas or reduce inventory. Automated warehouse operations would help to meet customers' expectations of faster deliveries.
Unlock channel growth
With no end to developments in the digital and social media space, there are plenty of growth opportunities available for brands and retailers to reach their consumers through new channels. As mentioned above, one way to do this is through leveraging social media influencers. Divert marketing spend towards social channels and implement a social media content strategy across all social channels.
Lead with purpose
The growing tension between sustainability and affordability is a fine line that brands and retailers need to manage. The modern consumer expects brands to help in times of needs and to put forward social values that align with their own values. Whether this be through reevaluating pricing strategies to create affordable product options or exercising social responsibility, brands need to provide more than just their product/service. The nature of the relationship between a consumer and brand is not purely transactional, and brands need to earn the loyalty of their target audience to win them over.
From a survey of over 11000 consumers around the world, it's become clear what matters to consumers in 2023. The consumer patterns of behaviour heavily correlate to the current inflated cost of living, geopolitical tensions and global supply chain pressures. If brands want to meet consumer expectations they need to deliver affordable products, speedy delivery and fulfilment, and give back through helping consumers through this financial crisis.