There's often a discrepancy between what consumers say versus their actions when it comes to sustainability. When asked in a McKinsey US consumer sentiment survey, more than 60% of consumers said they would pay more for a product with sustainable packaging. A recent study by NielsenIQ found that 78% of consumers say sustainability is an important part of their lifestyle. Yet this socially responsible ethos seems to fracture when companies look at the balance sheet of products with environmental, social and governance (ESG) claims; with top executives claiming there simply isn't enough demand for ESG initiatives. Is consumer demand for more socially responsible products simply empty words? Or are they simply weary of certain types of brands?
McKinsey and NielsonIQ examined the spending behaviour of consumers over five years and revealed four findings - each pushing the case for sustainable products with ESG claims. They covered 93 different ESG claims, such as "cage-free" and "eco-friendly", and divided them into six classifications: animal welfare, environmental sustainability, organic-farming methods, plant-based ingredients, social responsibility and sustainable packaging.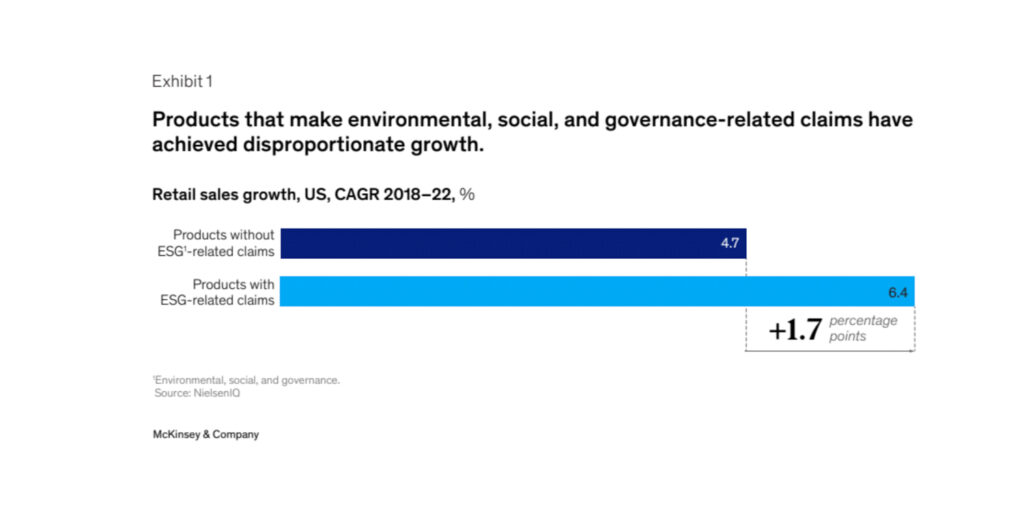 Consumers are shifting spending towards products with ESG claims
The study revealed that across many categories, sales of products with ESG-related claims grew more than those without. Within the frozen dessert category, products labelled "plant based" grew at a rate of 8.5% compared to non-ESG labelled products, which only grew 4.4%. Some demographic groups, including higher-income households, urban and suburban residents and households with children were more likely to purchase products with ESG-claims. But even outside of this particular group, consumers from all income levels, life stages, ages, races and geographies were buying into ESG labels - proving that the appeal of ESG-claims isn't limited to a certain niche. This finding testifies one thing - that consumers do care about products that are sustainable and are willing to purchase it if possible. As the cost of living increases with inflation affecting gas, housing and food prices, the sales growth of these products with ESG-related claims indicates that consumers have a vested interest in sustainable products despite financial constraints.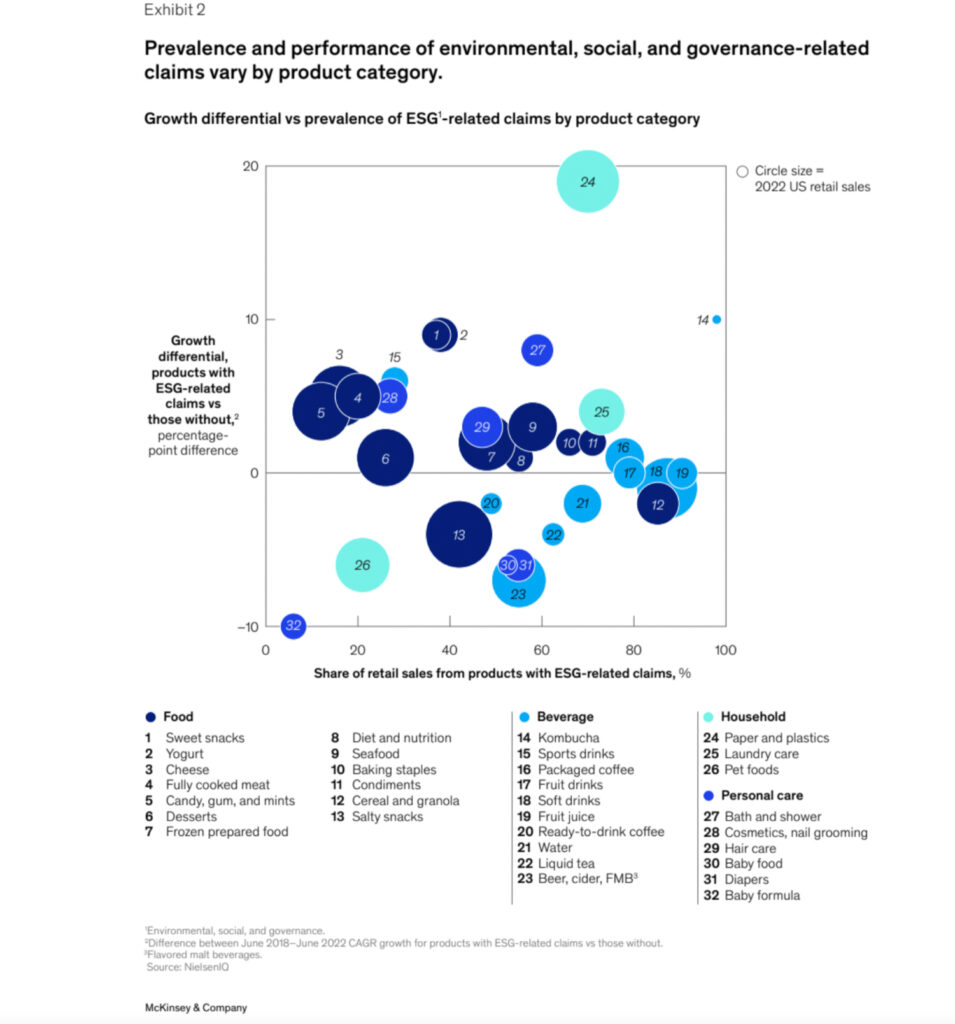 Brands of different sizes making ESG-related claims achieved differentiated growth
Large and small brands all saw growth in products making ESG-related claims; however their growth was disproportional. Smaller brands saw greater growth in certain categories including sports drinks and hair care, meanwhile larger brands saw greater growth in fruit juice and sweet snacks. Integrity and cost are two important elements that consumers consider when assessing and purchasing sustainable products. Smaller brands may cost more but when underpinned by an environmental or social cause, consumers are more likely to believe the claims they make. Larger brands on the other hand are less likely to be trusted by consumers, but would already have the distribution channels and infrastructure in place to create sustainable products at a more affordable price.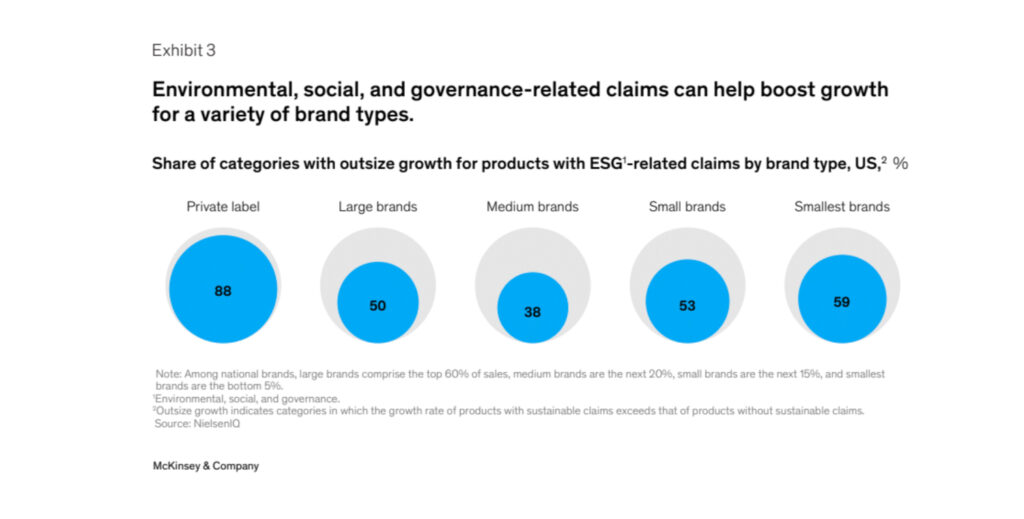 No one ESG-related product claim outperformed all others - but less-common claims tended to be associated with larger effects
Brands are always searching for ways to increase customer loyalty - and the study proves that brands that sell products with ESG-related claims attract 32-34% repeat purchases. Deeper engagement with ESG-related issues and genuine work in those areas encourage customer loyalty towards brands as a whole. In a marketplace where every product is trying to grab consumers' attention, being different pays off - and the study reveals that products with less common ESG-claims achieve higher growth. The most prevalent claims like "environmentally sustainable" only enjoyed 2 percent growth than products without that label, but less common claims like "carbon zero" and "vegan" grew 8.5%. Claims themselves become a point of differentiation, especially if they have a disproportionate impact on a company's ESG goals and impact commitments.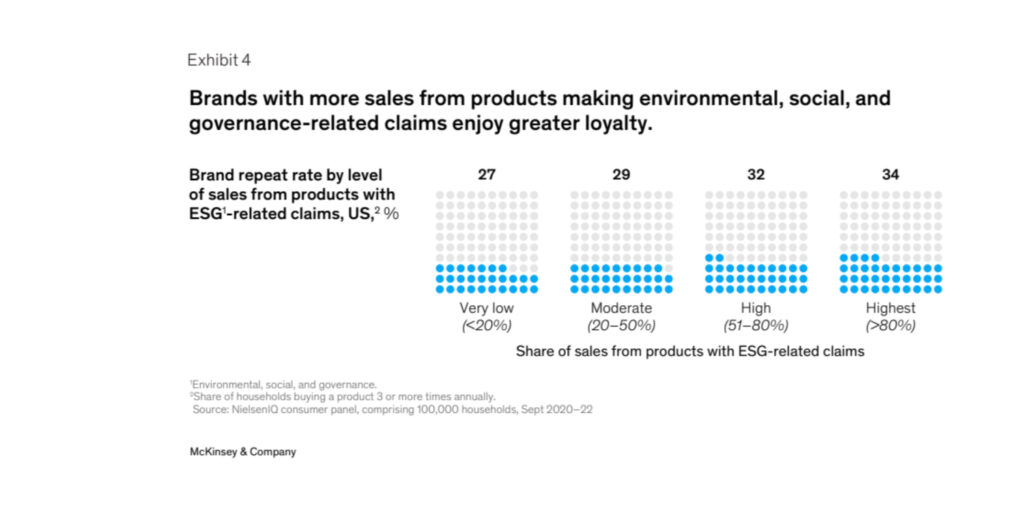 Combining claims may convey more authenticity
Products that displayed multiple types of ESG-related claims grew twice as fast as products that made only one claim. However that doesn't mean that brands can simply print more claims onto their packaging - what makes these claims more successful is that it implies a brand has a genuine interest in ESG-related behaviour. Multiple claims on product packaging indicates that a brand is thinking on a larger, holistic scale that considers how different elements of sustainability are interconnected - and it is through this lens that they create products.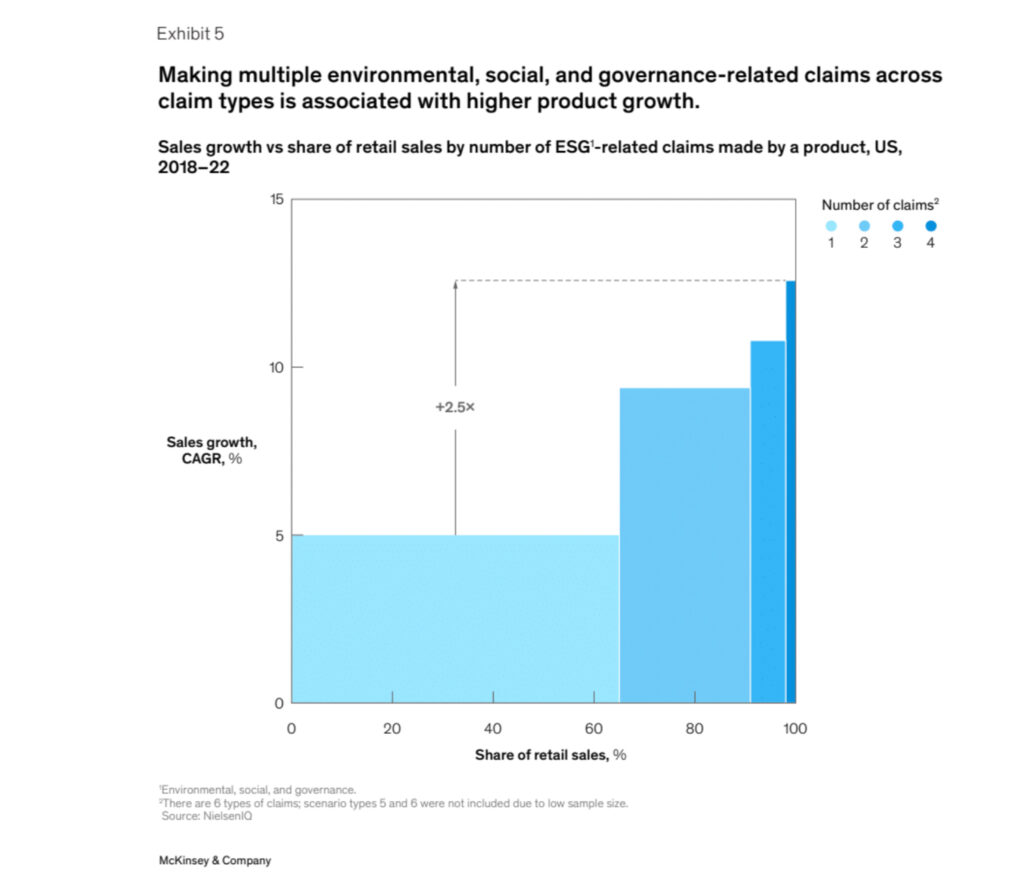 The success of brands that drive economic growth carries with it a social and planetary reality; the result of producing, transporting and discarding consumer goods all have a negative consequence on the environment and social climate. Consumers understand this and brands do too; so what can brands do to reduce their negative impact? The study has a few insights to share:
Establish an overall ESG strategy that is meaningful and underpins a variety of products across a brand's product portfolio;
Invest in a product design process that embraces ESG-related claims through a design-for-sustainability approach;
Invest in ESG through both established and new products;
Curate an ESG-strategy that is relevant to the product category and targets relevant consumer concerns;
Implement multifaceted claims that show your brand as investing into ESG holistically.
The evidence shows that customer sentiments towards purchasing sustainable products translate into actual spending behaviour. Brands no longer need to choose between sustainability and growth; instead, pursuing a thoughtful, consumer-centric ESG-strategy will consequently lead to increased growth, and an overall better future for the planet.