With the constantly changing political and social climate, it's hard to keep up with key events that take place. Each week we curate a selection of notable events so that you can remain informed about current art, design, sustainability and marketing developments.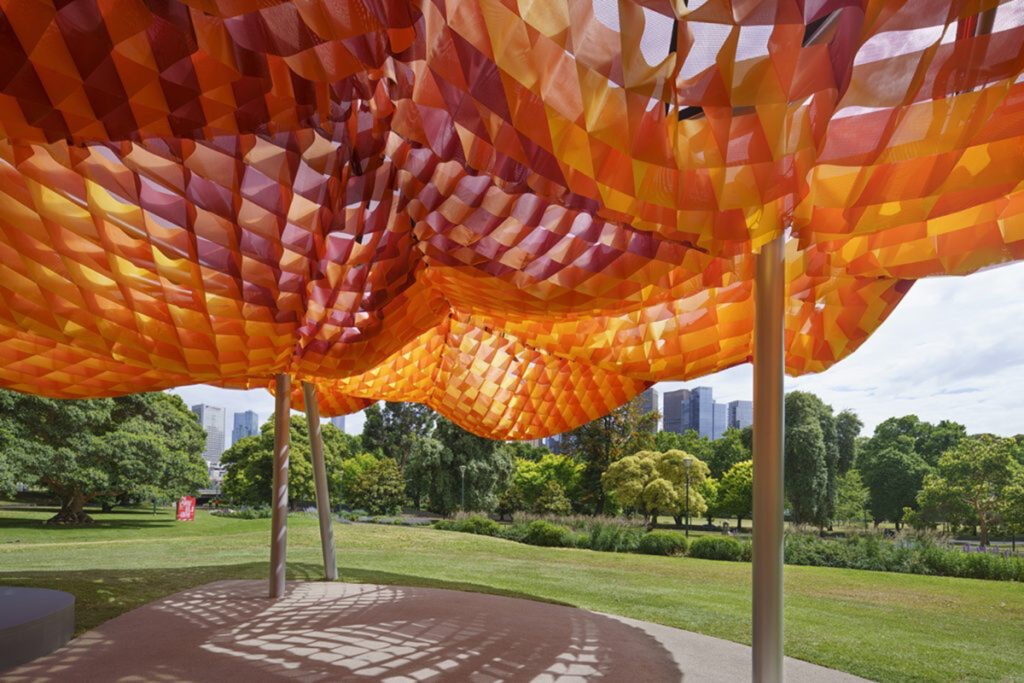 Fabric architecture on show for MPavilion
MPavilion opened in Queen Victoria Gardens yesterday, with the temporary pavilion designed and delivered by a women-led team. The ninth MPavilion was designed by Bangkok-based architecture and design practice All(Zone), and Melbourne-based project architect Leanne Zilka. The structure is made up of a three-part canopy, including an outside layer made of fishing nets that provides a textural element and a bottom layer featuring brightly coloured material in a waffle pattern that acts as a light diffuser while moving with the breeze. The middle layer of the structure uses a technology that has never been used in Australia until now; an STFE membrane by French manufacturer Serge Ferrari that is a transparent and lightweight building skin provides structure and protection without the need for secondary structures. "Focused on solutions for upcycling and reusing buildings, sites and materials, (all)zone's lightweight interventions complement MPavilion's vision of fostering dialogue on how design and architecture can help create better cities for the people who live in them" says Commissioner of the Mpavilion. Read more about the architecture of 2022 pavilion here, and find events throughout the coming months here

The Unjust-ice System called out by ACT Director of Public Prosecutions Shane Drumgold
Prosecutor Shane Drumgold has called for an inquiry into the AFP's unethical interference in the investigation and trial of Bruce Lehrmann for the alleged rape of Brrittany Higgins. The claims by the Director of Public Prosecutions appear in a letter to the police chief, obtained by the Guardian under the Freedom of Information act.
"As a corollary however, there has now been over one-and-a-half years of consistent and inappropriate interference by investigators, firstly directed towards my independence with a very clear campaign to pressure me to agree with the investigators' desire not to charge, then during the conduct of this trial itself, and finally attempting to influence any decision on a retrial."
Read the full article released yesterday by the Guardian here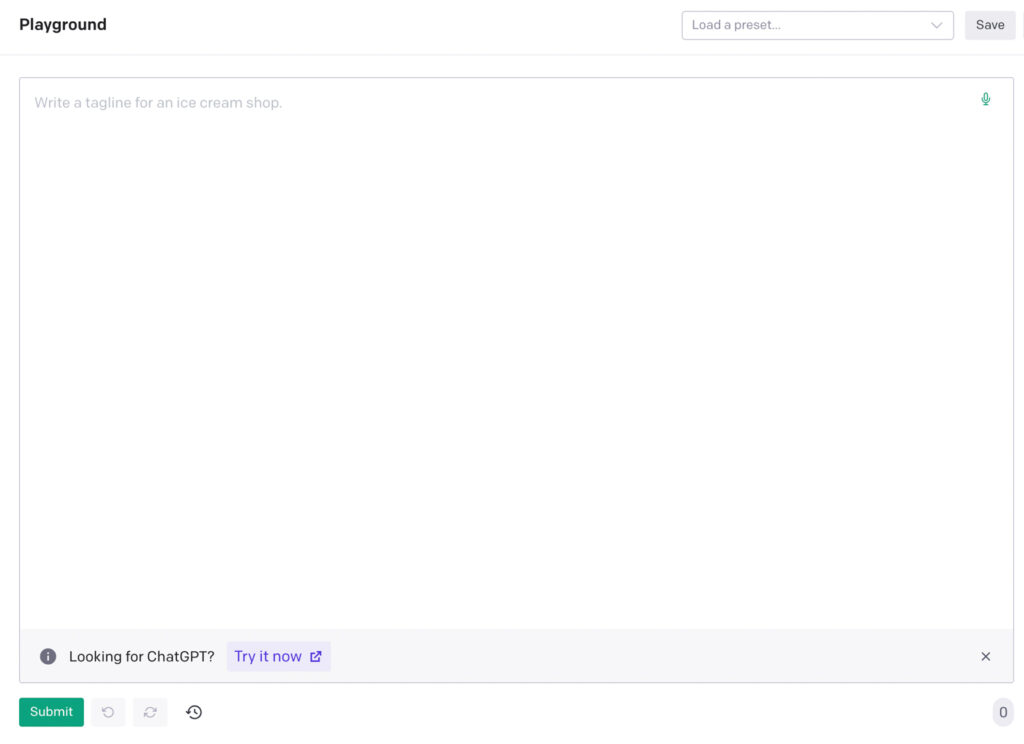 ChatGPT unveils updated ai - and it's more human than ever
ChatGPT is a web-based platform that uses natural language processing (NLP) to automate customer service conversations. It uses an AI-powered chatbot to understand customer inquiries and provide intelligent and personalized responses. The platform includes features such as an integrated messaging system, automated responses, and real-time analytics.
The new update to the ChatGPT platform also includes improved copywriting features that allow for more human-like conversations. By using natural language processing (NLP), ChatGPT can recognize customer intents and preferences and respond in a more conversational and personalized way. Additionally, the feature also allows users to customize customer service conversations by including customer details and preferences. This allows ChatGPT to provide more accurate and tailored customer service conversations that feel more natural and human.Additionally, the platform now supports multiple languages, including Spanish, French, German, and Chinese.
Obviously, we used ChatGPT to create this description. Try it here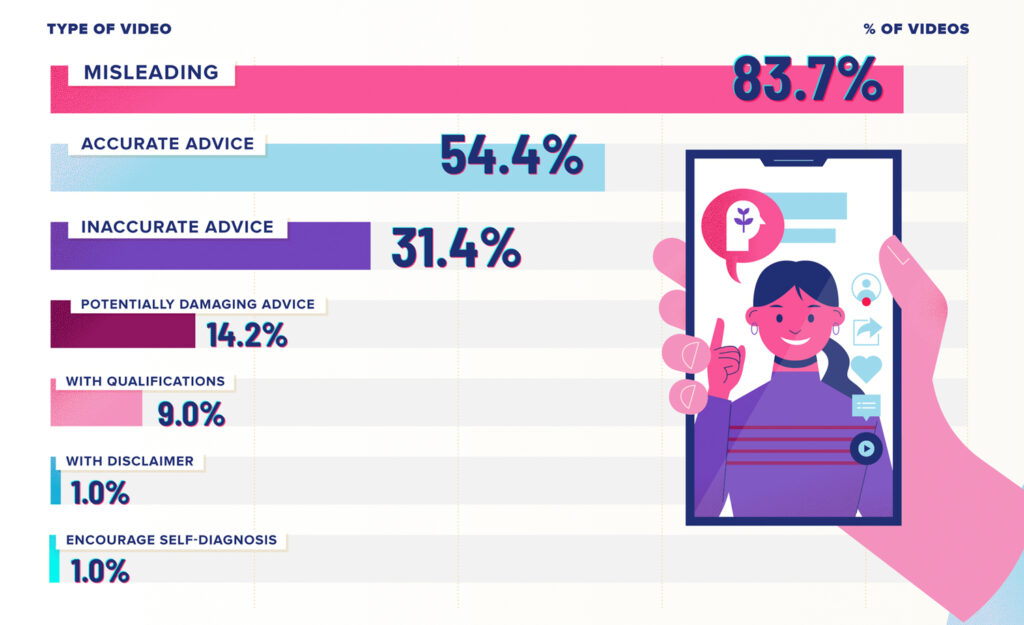 Breaking: Health advice on social media is not accurate
Online healthcare provider PlushCare conducted an analysis of 500 TikTok videos and found that most advice for mental health on the platform was misleading or inaccurate. Of the 500 videos analysed in the study, there were a combined 25 million views and 3.5 million likes, with 83.7% of these containing misleading advice. With most Gen z users finding their news and health information on TikTok, this study is alarming. However with an uptake in discussions surrounding mental health we've seen more acceptance, flexibility and understanding afforded to neurodiverse individuals and people suffering from mental health conditions. Ofcourse, where there's information there's misinformation, and the moral of the story is to not get all of your health information from a social media app.